Anxiety
Newsletter
2 new Flow sessions: Free yourself from toxic perfectionism
Download Flow Lab
Flow Lab is your AI-powered mental fitness app that helps you experience the highly productive Flow State more often. So get your 7-day free trial and train your mind with science-backed guided and personalized meditations:


Are you familiar with the "Paradox of Perfectionism"? When we want to perform perfectly, we may get hung up on the details and, in the end, don't get anything done. Let go of unhealthy perfectionism with our two new releases 50 Shades of Success and Stay True!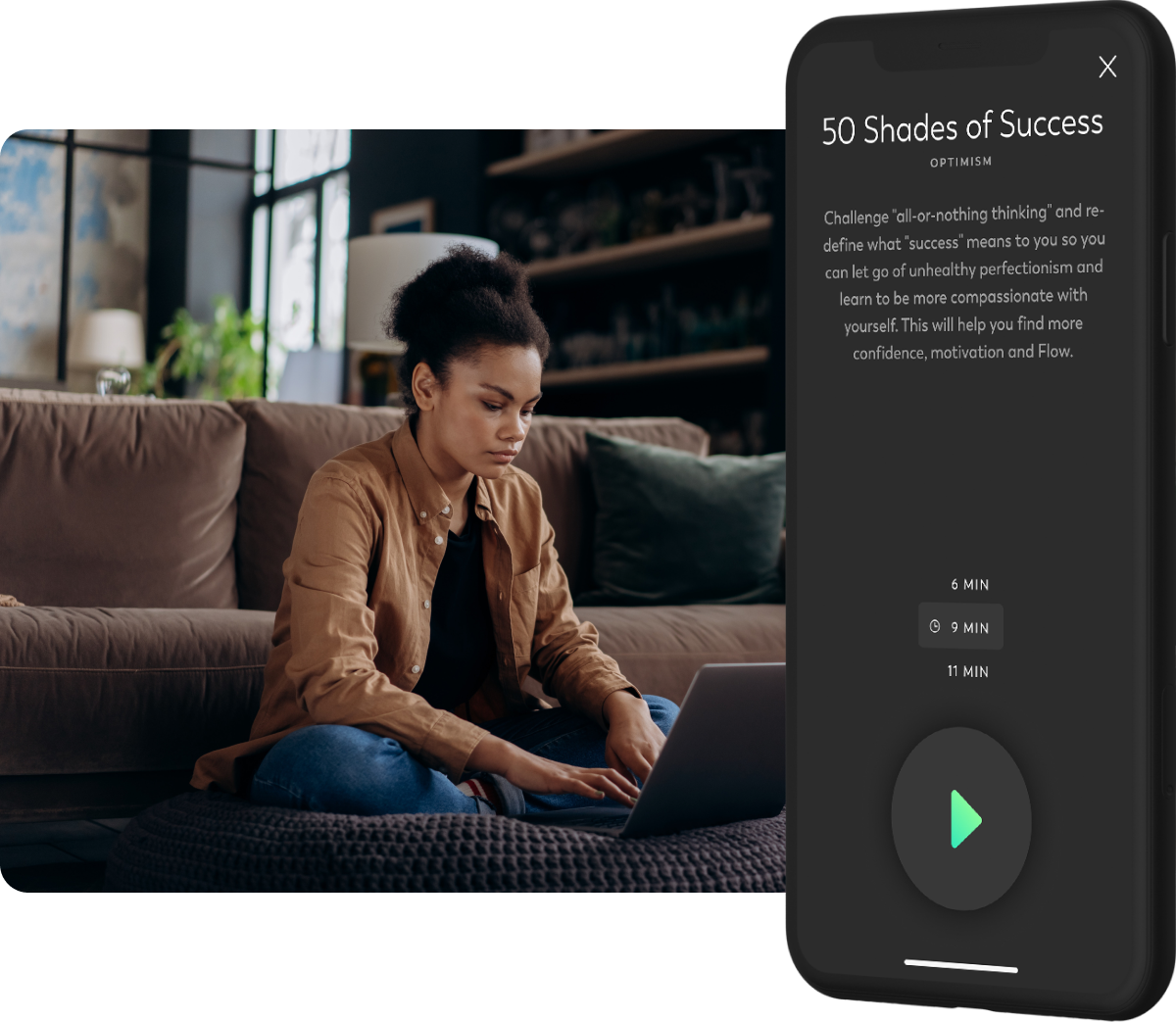 Two sides of a coin

Unhealthy perfectionists are less inclined to seek excellence than they are to avoid failure. They typically set unrealistic goals, show impaired attention and are highly self-critical.
But there is also a healthy form of perfectionism: According to psychologists, this "striving for excellence" comes with numerous positive outcomes, such as better performance (Jo & Lee, 2010), intrinsic motivation (Miquelon et al., 2005), less anxiety (e.g., Shaunessy et al., 2011), decreased procrastination (Sirois et al., 2017), higher well-being (Fairweather-Schmidt & Wade, 2015) and even more Flow (Powers et al., 2012)!

So it seems that it's not high standards alone that cause negative effects.

Challenge irrational beliefs that sustain unhealthy perfectionism

So in order to strive for excellence and let go of the negative aspects of perfectionism, we developed two Optimism sessions for you! They'll help you overcome unhealthy thinking patterns that underlie unhealthy perfectionism such as "all-or-nothing" thinking (Walsh & Ugumba-Agwunobi, 2002) or anxious and self-defeating thoughts (Flett et al., 1991) and cultivate more intrinsic motivation and self-compassion.

– 50 Shades of Success: Challenge "all-or nothing thinking" and re-define what "success" means to you so you can let go of unhealthy perfectionism and learn to be more compassionate with yourself.

– Stay True: This session invites you to lower the need for validation from others and to focus more on the things that matter to you. This will help you to not only stay true to yourself but also find more Flow.

Take the first step now and start your training!